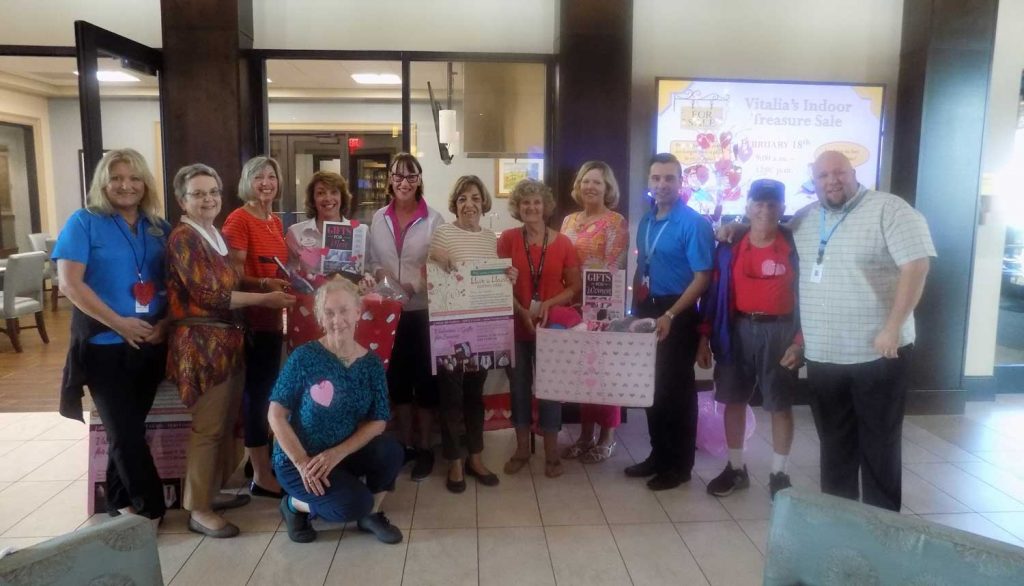 It's undeniable: Evergreen Lifestyle directors rock. When it comes to event planning, they're always quick to give credit to their volunteer teams and co-workers, but the fact is that they're the glue that holds the moving parts together and the hands that tie up all the last strings.
Leslie Boehlert is Lifestyles Director for Vitalia At Tradition by AV Homes, Port St. Lucie, FL, about half-way between Orlando and Miami on the Atlantic coast.
This year she came up with an idea that acquired the name Have a Heart Initiative.
The vision came as Leslie observed the vibrant lifestyles of many residents in her Port St. Lucie over-55 community. She saw how outgoing and active they are; how so many are in a comfortable, happy place in life.
Leslie has always had a spot in her heart for seniors, particularly ones who aren't in a great situation—the ones who are lonely or struggle with health issues or lack of finances. As she saw the energetic residents of Vitalia, she thought how great it could be to do a community project to encourage residents to give back to nearby disadvantaged St. Lucie seniors.
She discussed the idea with the Event Planning Committee volunteer members, and they decided to pursue it. The Have a Heart Initiative was born.
At first Leslie thought that the project could benefit underserved nursing home residents. But after a couple of calls to local nursing homes, she learned that needs there were minimal, which eventually led her to contact Mary Craig, senior outreach services director for St. Lucie's Council on Aging.
Mary was very enthusiastic about the Have a Heart Initiative. "It's so nice to get this call from you!" she said to Leslie. "We're a non-profit, and we usually have to make the calls for help!"
Leslie came up with a list of donation ideas, which included lotions, word-search books, shaving cream, razors, slippers with non-slip soles, and zip-up housecoats. Mary added lap blankets and neck pillows to the list.
"I was glad she contributed those ideas," says Leslie. "I wouldn't have thought anyone in Florida would need a lap blanket!"
The next job in the project timeline was to get the word out to residents of Vitalia at Tradition Port St. Lucie FL. Leslie knew that a great channel would be the 45 interest groups in the community. She believed this could accomplish a secondary goal as well: connecting people across groups to expand their circles and deepen their relationships.
With the help of the Event Planning Team and front-desk attendant Debbie Chisholm, word started getting out to Vitalia interest groups and residents. Their response was immediate and overwhelming.
"It was unbelievable," Leslie says. "We got bags and bags of donated 'Valentines!'"
Debbie, who also teaches art classes at Vitalia, came up with more gift ideas: angels made from doilies, socks that looked like cupcakes, and adult men's bibs with hand-painted ties. Evergreen donated the supplies and the Art Club made the gifts in a series of four classes. The Knit and Crochet Club made beautiful lap blankets.
On delivery day, Leslie, lifestyle attendants, and Vitalia residents loaded up their vehicles with the gifts: toiletries and other donations, lap blankets, angels, bibs, and socks. They took them over to the Adult Day Care group at the Council on Aging of St. Lucie, where the men and women received everything joyfully.
"Their smiles were great. The men loved the bibs!"
Half of the donated items went to a second Adult Day Care group the next day at the Council on Aging in Ft. Pierce.
The Council on Aging staff were thrilled with the donations. "The outpouring of love for the day care men and women was profound," said Michelle Vanouver, Senior Activities Coordinator. "It was wonderful. They brought a lot of happiness!"
Leslie is very happy about how the project turned out, especially about the generous response from Vitalia residents who donated items or made gifts. There's no doubt in her mind: it's a project she plans to bring back next year.