Association
Communication is the key to any successful relationship. For us, this old adage rings true from our corporate offices in Orlando and Jacksonville to the neighborhoods of every community we manage. By bringing together the latest technology with the highest skilled individuals in the industry, Evergreen successfully caters to the complex needs of today's communities.  Between Evergreen Lifestyles Management and our Leadership Team we have over 25 years in facility management.  This scope includes full service amenity centers, clubhouses, onsite restaurants, and commercial retail management. Currently we manage more than 155 communities throughout Florida, from Miami to Jacksonville.
Lifestyle
A good Lifestyle Program will bring residents together in a way that results in a stronger community, a positive narrative and a more profitable development.  Our full service offering includes budgeting, planning and execution of events, organizing and working with resident clubs, conceiving and programming educational classes, as well as implementation and maintenance of world class fitness programs. Our Lifestyle programs are diverse and designed to specifically meet the needs of the residents on a per community basis.  The major events are planned for an entire year with additional events offered throughout the year.  Community input ensures the delivery of a vibrant and diverse set of programs to our residents.
Management Structure
Good management all starts with assigning the right manager for you. That begins with learning the specific nuances and challenges your community presents. Once we have a clear picture, we are able put together a team that will serve your community in a way that benefits everyone.
Community Standards
By leveraging technology and industry expertise, we implement an efficient program that generate notices with high quality, in less time, and with less effort by the manager.
Financial Management
We utilize a well-establish system for managing the accounting practices of our communities. Our approach to governmental requirements are tracked, managed, compliant, and most of all, protected at all times.
Administration Management
We handle all the day-to-day tasks that tend to drag down communities and the staff that support them. From contractors to record keeping, let Evergreen take care of it.
Vendor ID Program - SAFE Communities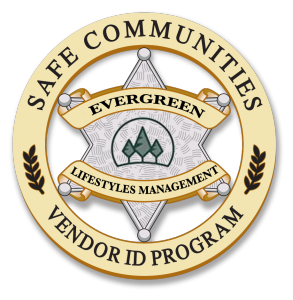 For the safety and security of our residents and guests, each community will have the opportunity to implement a SAFE Communities program for the background screening and driver's license status of all vendors who wish to enter the property at NO cost to the community. A vendor is defined as anyone providing a service for a fee. Once screened, each vendor will carry the SAFE Communities Vendor ID card. This card is accepted by communities and employers throughout the area. This program gives peace of mind that vendors working in the community have been pre-screened.
In order to qualify and receive the Safe Communities Vendor ID, an applicant must not have been convicted of any of the following crimes in the past five years: Robbery; Burglary; Theft; Aggravated Crimes of Violence; Sex Offense (No Sexual Offender/Predator Status); or Dealing in Stolen Property.
Safe Communities does not conduct immigration or work status screening. However, once approved, this ID will allow vendors access to all communities who have adopted the program without any additional fees. A state driver's license check will also be conducted. This will not affect the issuance of the ID. However, the applicant's driver's license status will be printed on the ID card. Those vendors without a "Driver" status will not be permitted to operate a motor vehicle on community property.
Management & Personnel
Evergreen builds a team around your taste, preference, and unique needs. Each community will have a dedicated staff of professionals ready and available to bring the lifestyles program to life. We track, manage, and coordinate so you can sit back and enjoy.
Programs, Clubs, and Events
The people, the programs, and the events are what make a community feel like a destination and Evergreen has you covered. We help you create a lifestyle program that keeps your residents engaged and is built around their input.
Amenity Centers
A quality Lifestyles Program starts with a well-managed Amenity Center. Evergreen has the experience and know how to make your facilities run smoothly, regardless of how big they are, or what stage of development they are in.
Communications
Lifestyle Communities tell a story of exciting places to retire, safe neighborhoods to raise a family, and sound financial investments. Through a custom community website, newsletters, weekly e-blasts, and targeted public relations Evergreen is able to promote that narrative throughout the community and across the globe.
Let's Talk!
We'd love to sit down and talk about your association and determine if Evergreen is a good fit for your community.