By Mandy Morgan, LCAM, CMCA, AMS, Regional Manager, Central Florida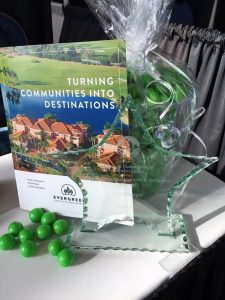 Residents of TerraLargo now have another reason to be proud of the place they call home. In additional to elegant homes in a resort-style community with excellent amenities and a great location in Polk County, TerraLargo is the proud recipient of the 2016 Florida Communities of Excellence Award in the category of Family Friendly Programming and Initiatives.
The Florida Communities of Excellence Awards is the first and only comprehensive, independent recognition program for the tens of thousands of community associations throughout Florida. Judged by 36 professionals throughout the state, the awards recognize those communities which go above and beyond in a broad range of categories to improve the quality of life for its residents and enable other communities to learn from their success.
TerraLargo and Evergreen Lifestyles Management were recognized at the Annual Conference and Awards Gala in West Palm Beach. Stop by TerraLargo or visit our lifestyles website at www.TerraLargoHOA.com to see what makes it such an award-winning community.
Check out the article in December's edition of the Florida Community Association Journal on page 23 by clicking here.