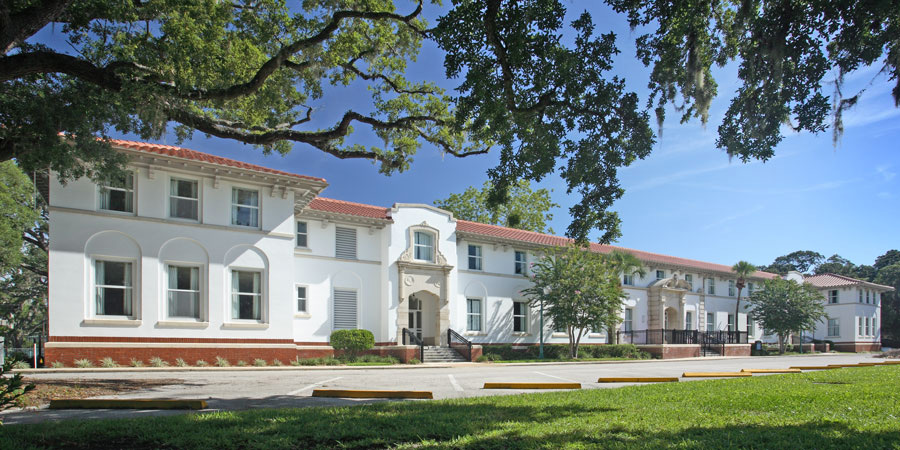 Jason is a deaf high school senior who attends the Florida School for the Deaf and the Blind (FSDB). He captains the school's team that competes against other schools in academic Q&A contests. He plans to attend Gallaudet University or Rochester Institute of Technology after graduation.
Wes is a visually impaired junior who is captain of FSDB's football team. When Wes was in 4th grade, his family moved to Florida so that he could attend FSDB. His goal is to attend the University of North Florida and major in Athletic Training.
Breanna is a fourth grader at FSDB. She had normal vision until age 7, when a brain tumor robbed her of her sight. Her family relocated from New York to Florida so that Breanna could attend FSDB, receive braille instruction and be with other children like herself.
A Unique School
FSDB, located near St. Augustine in northeast Florida, was established in 1885 and is the longest-standing program of its kind in the state. It's a tuition-free program for eligible students living in Florida. Located on 80 acres of land, the school serves 600 students in grades Pre-Kindergarten through 12th grade.
The school's staff comprises reading and math specialists, Braille specialists, orientation and mobility instructors, audiologists and speech therapists.
This school fills a significant need for many students and their families and yet does not receive funds from local taxes or lottery dollars (as Florida public schools do). It requires private donations which are used to supplement state tax funding in order to provide critical programs and services.
A Specific Target
Lynzi Chambers, Evergreen Lifestyle Management's Lifestyles Director at Trailmark near St. Augustine, was looking for a local beneficiary to dedicate a fundraising event to. While there are many great causes that she could have championed, Lynzi really wanted to keep things local and have a defined target that people could envision and get behind.
She approached the staff at FSDB about doing a fundraiser for the school, and through the ensuing conversations, a target was identified: an expansion of the school's braille library.
The school's library is like any other school library in its composition—fiction, non-fiction, reference, and age-specific volumes. The difference is that a percentage of the library's books are in braille, and it's this collection that needs augmenting.
With the beneficiary selected and the target identified, Lynzi then set about deciding on the nature of the fundraiser. She settled on a silent auction.
Though it's only July, plans for the November 16, 2017, silent auction are well underway.
A Donation Call
The biggest task is procuring donations for the auction itself. Lynzi is getting the word out to local business, Trailmark residents, and everyone else she can think of. People are starting to respond. Already, all five Trailmark builders (David Weekly, Providence, Landen, MasterCraft, and D.R. Horton) have committed gift baskets, there are tickets from the Alligator Farm, a San Sebastian Winery basket, $50 gift card from St. Augustine Distillery, rounds of golf donated by Hampton Golf, a board games basket from Big Daddy Games, a 4-hour rental of Trailmark's Camp House, a Greek dinner for 4 donated by a Trailmark resident, and even two yard Yahtzee sets made by her momma.
The silent auction will take place on a Thursday evening, and the school will provide entertainment (a performance by the band or the dance team.)
Lynzi also wants to be able to provide food at the event and has already procured beverages through a donation by GreenPointe Communities, LLC, the Developer of Trailmark.
Many details still need to be worked out, but momentum is building and people in the community, school, and town are enthusiastic about the event. Lynzi will be looking for auction items right up to the end. "I want to think outside of the box when it comes to donations," she says.
The Florida School for the Deaf and the Blind is excited about the event. They love it that an entity in the local community wants to help another entity in the community.
Please check back with us after November for a post-event report!