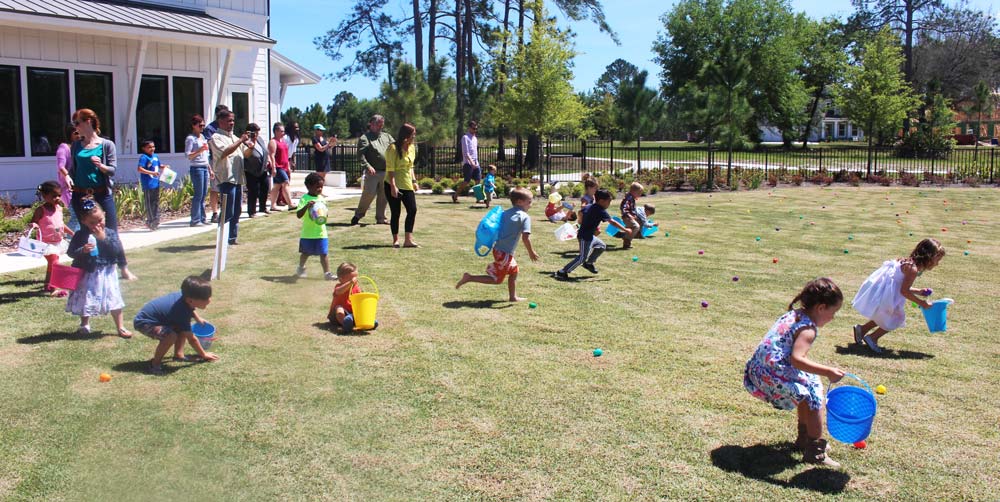 Not all Lifestyle Directors get to be in on the ground floor of a community's development, but Lynzi Chambers does.
Lynzi is the Lifestyle Director at TrailMark, a new Evergreen Lifestyles Management community near historic St. Augustine, in St. John's County on the Atlantic coast. With 45 homes sold, closed and occupied, TrailMark is just at the beginning of its HOA and Lifestyles program.
Trails, Parks, and Water
TrailMark's guiding vision–bringing neighbors to nature–arises from its environs and the intentionality of the developer and TrailMark builders to make the outdoors resident-accessible. From green spaces and parks to walking trails and a kayak launch (coming later in 2017), residents have abundant opportunity to get out, get fresh air, get exercise, and enjoy life.
Lynzi loves the newness of TrailMark, its beautiful location, and everything about it that invites residents to live actively outside.
A North Florida native, Lynzi came to TrailMark in November 2016. She hit the ground running, when, within weeks of her arrival, she put on her first resident event: Cookies and Cocoa with Santa.
This event drew 70-80 people who came to enjoy a hot chocolate bar (toppings: cool whip, marshmallows, chocolate chips, cinnamon sticks, caramel sauce, chocolate syrup, and Kahlua for the adults), plus dips and dessert. Oh–and Santa, of course, for the kiddos.
Lynzi quickly got into stride at TrailMark and is setting the bar in the area of lifestyles management activity. Besides providing orientation tours to prospective buyers and realtors, as Lifestyles Director, she plans and produces all of the community's resident events and activities.
From Egg Hunts to a Distillery Visit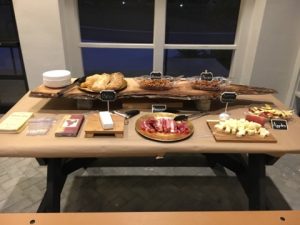 Already this spring, among other events, she has put on an international potluck (with 70 people attending and 25 dishes from around the world), a Dr. Seuss birthday party (for which the TrailMark "Camp House" turned into Who-ville), and an adult-only wine tasting with two table-sized cheese-boards, hosted by local family-run San Sebastian Winery.
Lynzi's most recent event was the April Easter Egg Hunt. She planned two separate hunts with a thousand total eggs–one for the 20 kids under age four who showed up, and one for the 20-25 kids that came who were age five and older.
The hunt for the tiny ones took place on a grassy field, where colored plastic eggs filled with candy and toys were placed within easy sight and gathering distance.
The hunt for the older kids took place in a park area where the search could be a little more challenging. For a bit of spice, four gold eggs each containing one gold Sacagawea dollar coin were among the lot of regular eggs (the younger kids had two gold eggs to find).
That event took place between 2pm and 4pm, with the hunts starting at 2:30 and lasting around 15 minutes.
Egg hunting wasn't the only feature of the afternoon. A six-foot Easter bunny also made an appearance, eliciting a mixture of curiosity and excitement. For the watchers, Lynzi had a food table set up with fruit, veggies, a cheese ball, a bunny cupcake pull-apart cake and an Easter basket pull-apart cake.
What's ahead? Lynzi has plans. . . .
An adult-only event coming up is the visit to TrailMark of St. Augustine Distillery. Guests will be able to sample a gin and tonic, a Florida mule, and an Old Fashioned.
In keeping with TrailMark's "Bringing Neighbors to Nature" vision, Lynzi plans to bring in an exhibit/presentation hosted by a team from the St. Augustine Alligator Farm Zoological Park (one of Florida's oldest continuously running attractions).
A parrot party with Jimmy Buffet-style band
A fundraiser for the Florida School of the Deaf and the Blind
Great Places for Great Plans
Another broader plan in the works is a partnership with the local YMCA for regular and on-going classes and lessons. TrailMark's residents include young children who don't know how to swim. Lynzi is planning for YMCA staff to give swim lessons for young children and also a refresher swimming course, as well as perhaps group fitness classes and a kids' summer camp.
As TrailMark grows and expands (it will be built out at 1,800 homes), more opportunities and venues will become available. Already, the opening of the brand-new TrailMark Camphouse, Welcome Center and Fitness Center last October creates more options for event-hosting and wider scope for amenity management. The buildings, with their wood floors, high ceilings, and big windows invite the outdoors in and provide great friendly spaces for all kinds of activities.
With its parks and trails, its inviting amenities complex, and its Lifestyles Director who offers a full roster of delightful events, TrailMark will certainly lock in its reputation as the desired place to call home in the St. Augustine area.